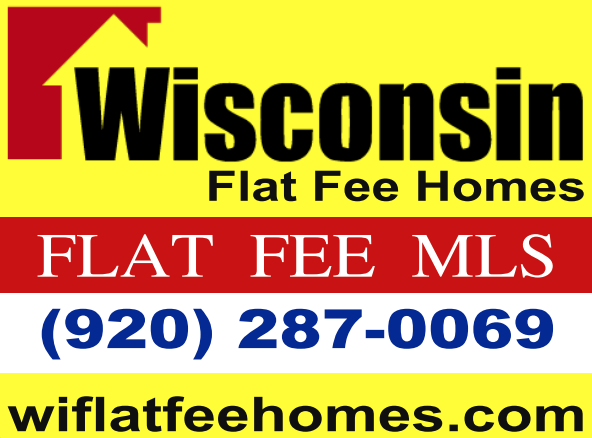 Welcome to Wisconsin Flat Fee Homes!
You may already be familiar with Milwaukee Flat Fee Homes and Madison Flat Fee Homes, which currently provide Full Service - Flat Fee MLS Realty services to all of Southern Wisconsin. Due to popular demand, we've expanded and we are now servicing the Fox Cities and Northeast Wisconsin!
Since 2009, we've saved our sellers over $7 million in real estate commissions and
we've given our buyer clients over half a million $$ in commission rebates.
Wi Flat Fee Homes is excited to continue the tradition...providing exceptional service to our clients, while keeping our services affordable and consistently exceeding our client's expectations!
We are a family owned, local business with 24 years of experience in real estate sales and marketing. We provide a full range of realty services without the high commission fees.
OUR $550 FLAT FEE - FULL SERVICE MLS LISTING + $950 NEGOTIATION/CLOSING
SERVICES PACKAGE INCLUDES:
MLS: We'll list your home for sale in the RANW MLS for 1 Year. We also list your property on WIREX, the Wisconsin state-wide MLS. (Any extensions are always free of charge!)
INTERNET EXPOSURE: We'll advertise your listing for sale on all national real estate search websites including Realtor.com, Trulia and Zillow. Additionally, your listing will be featured on all local real estate company websites including Shorewest, First Weber, Coldwell Banker, ReMax, Keller Williams, etc.
PHOTOGRAPHY: Listings with more photos get more views! We'll professionally photograph your property using our Sony Alpha a5100 with a wide-angle lens, specifically designed for real estate photography. Every listing receives 25 photos!
MARKET ANALYSIS: During our appointment, we'll review recent comparable sales and assist you with setting your listing price.
SHOWINGS: All showings are scheduled using ShowingTime, our professional scheduling service. You will also receive and manage feedback and you'll have a personalized webpage where you can access information about your showings.
THE BASICS: Lockbox, Printable Property Brochure, High-visibility Professional Post Yard Sign (signs not available in all areas).
$950 NEGOTIATION AND CLOSING SERVICES PACKAGE: We will receive and present all offers to you, including a comprehensive breakdown of offer terms. We will then discuss strategy with you, and handle all negotiations on your behalf. We will draft the appropriate documents, including all Counter-offers and Amendments. We will coordinate all Inspections, order Title, schedule your Closing, and review your Settlement Statement for accuracy. Note: The $950 Closing Services Fee is only paid at successful closing.
**Additional fees may apply to the following properties: Homes with Acreage, Homes above 4,000 sq/ft, & Multi-unit Apartment Buildings. Please call the office for pricing.
25% B U Y E R R E B A T E P R O G R A M
Ready to purchase a home? Our Exclusive Buyer Agents will schedule and attend showings with you, draft and present offers, negotiate your purchase, coordinate and attend home inspection, and your closing. At closing, you will receive a check for 25% of our commission (typically 2.4% of purchase price.) Rebates are tax-free and can be used toward your down-payment.
NEED MORE INFORMATION?
CLICK HERE: MLS LISTING DETAILS
READY TO GET STARTED? CLICK HERE
CALL OUR OFFICE: (920) 287-0069